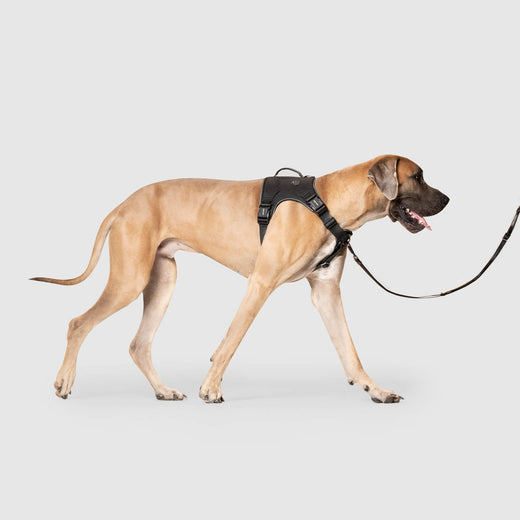 Model is wearing size XXL
Complete Control Harness
$70
OUR STRONGEST HARNESS YET
You stay in control. Your dog stays comfortable. You can both walk with confidence.
- Custom no-pull front D-ring to reduce your dog pulling
- Soft neoprene padding for your dog's comfort
- 3 ways to adjust on the neck, chest, and belly for a secure fit on your dog
- Tested on a wide range of dog sizes
- Dog trainer recommended
Complete Control Harness FAQs
In order to find the best fit for your pup, please measure their neck circumference (around the base of the neck) as well as the chest girth (around the widest part of the chest). You can then match your pup's measurements to their size using our sizing charts! If you have any questions about this, our support team is always happy to help here.

The harness should be snug and you should be able to fit two fingers between the straps and their body. There are sliding straps on the neck, chest, and belly to ensure the best fit for your pup!

The Complete Control Harness is a great training tool for puppies as it has sliding straps to adjust as they grow! The harness puts you in control and keeps them comfortable so you can focus on building trust and confidence on walks.

Harnesses like our Complete Control Harness that have the option of a front clip change the point of leverage. When your pup pulls, the harness simply redirects the dog to the side and back towards you. It will deter pulling on its own, but you'll also be teaching your pet that a loose leash is the only way they will proceed with their walk, and a tight leash means they have to stop moving.

The Complete Control Harness can help you with training your pup in a few ways! The front D-ring of the harness is a great tool to help your dog learn to walk with a loose leash. The assistance handle and back D-ring offers additional points of control, and the full-coverage design and neoprene padding minimize unwanted tension.

We recommend hand-washing the harness in cold water and hanging to dry. Please do not bleach, iron, or dry clean.