Chill Seeker Cooling Harness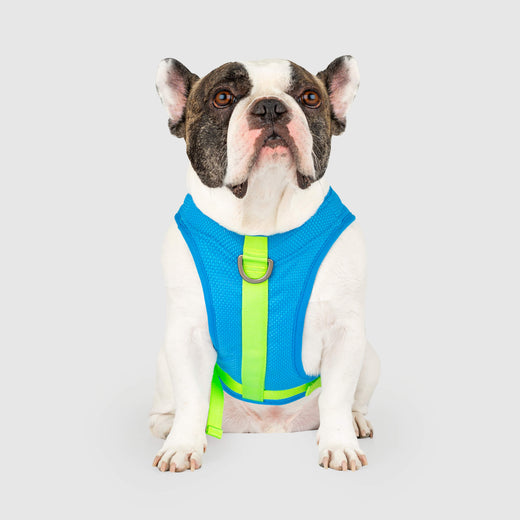 Rosie the Sheepadoodle is 50 lbs wearing size 24
Rosie the Sheepadoodle is 50 lbs wearing size 24
Rosie the Sheepadoodle is 50 lbs wearing size 24
Chill Seeker Cooling Harness
$50
Cooling Dog Harness 
Cooling dog harnesses are a valuable tool that helps make sure your pup is comfortable and cool during hot weather. 
What is a Cooling Dog Harness? 
Our cooling dog harness is designed to help regulate your dog's body temperature by cooling them down. It's made of a lightweight and breathable mesh fabric with a built-in cooling mechanism that provides a constant flow of air to keep your dog cool and comfortable. It works by using an evaporative cooling effect and wicking fabric to reduce your dog's body temperature. 
Benefits of Cooling Dog Harnesses 
1. Helps Prevent Overheating 
Overheating can happen when a dog's body temperature gets too high. The good news is that it is largely preventable with the help of cooling dog harnesses. These harnesses can reduce your dog's body temperature, helping to prevent heatstroke, and keeping your dog comfortable during hot and humid weather. 
2. Increases Comfort 
A cooling dog harness provides a comfortable way to keep your dog cool during summer. It's designed to fit comfortably and reduce any discomfort your pet may be experiencing from the heat. With a cooling dog harness, your pup will be more comfortable and happier even during hot and humid days. 
3. Great for Outdoor Activities 
Many dogs love outdoor activities like hiking, running, and cycling with their pet parent. However, these activities can be strenuous and exhausting, especially during hot weather. A cooling dog harness is perfect for such activities, as it provides a cool and comfortable environment for your dog and prevents any heat-related issues. 
4. Lightweight and Breathable 
Cooling dog harnesses are designed to be lightweight and breathable to avoid any added stress to your pet during hot weather. The material is also specially chosen for its wicking capability, which ensures that any moisture from sweat is absorbed and released, leaving your pet cool and comfortable for long periods. 
5. Versatile 
Cooling dog harnesses come in a variety of sizes and styles, making them suitable for dogs of all breeds and sizes. They're also easy to clean and maintain, which means you can reuse them every summer, making them a great investment for any pet parent. 
Dogs are a valued member of the family, and it's important to take good care of them, especially during hot weather. A cooling dog harness can be an invaluable tool to keep them comfortable and safe during hot weather, preventing heatstroke and reducing the amount of panting. A cooling dog harness ensures your pup is happy, healthy, and comfortable, even during the sweltering summer months. 
FAQs
Cooling harnesses can be a great way to help keep dogs cooler and more comfortable in warm weather, especially for breeds that are more prone to overheating. They work by using an evaporative cooling effect to lower the dog's body temperature. It is important to use the right size of harness and regularly check the dog's body temperature while wearing it to avoid overheating. Refer to our size guide to find a comfortable fit.  
To determine the right size cooling dog harness for your pup, measure the chest girth (the widest part of the ribcage) and neck circumference with a soft measuring tape. With these measurements, reference our sizing chart to select the appropriate size. It's important to ensure a proper fit to avoid any discomfort or chafing. If your dog falls in between two sizes, it's generally best to choose the larger size for a more comfortable fit. 
Cooling dog harnesses can be effective in keeping dogs cool and comfortable in hot weather conditions. They work by using materials that absorb and evaporate water, which creates a cooling effect when it comes into contact with the dog's skin. However, it is important to note that not all cooling dog harnesses are created equal, and their effectiveness may depend on factors such as the breed of the dog, the climate, and the level of physical activity. It is recommended to do proper research and consult with a veterinarian before purchasing a cooling dog harness.